Find out more about the Instant Book feature below.
Tours in the TourRadar.com Marketplace with the ability to be instantly booked have much higher conversion rates than those that require manual confirmation. This simply means that the tours are automatically confirmed when the passenger books. The most efficient way to have your tours as 'Instant Book' is to connect to TourRadar via a feed.
If you manually manage your TourRadar listing, you can still have your tours on 'Instant Book' and to ensure that this is suitable for you as the operator we can set some parameters. For example, if a passenger books a tour which doesn't depart for more than 30 days and has plenty of available spaces this will be instantly confirmed by our system. But if a passenger books in less than 30 days of departure or there is only 1 or 2 spaces left then this booking would require manual confirmation by you, as the Tour Operator.
In order to list your tours as 'Instant Book', log in to your Operator Dashboard. It will automatically take you to the Tours Section. Select the tour you wish to list as 'Instant Book'.
In the 'Details' tab scroll to the bottom and change the status to 'Instant Book'
Click 'Save tour' on the right-hand side
To manage the parameters please see 'Manage Profile - Bookings & Finance'
Once someone books a tour, rather than asking you to confirm the booking manually, we confirm the trip immediately and charge their card. An email is sent to you to let you know the booking has been confirmed and we reduce the availability in our database for that date by the number of seats booked. The tour cannot be instantly booked if there is insufficient availability. You can turn this on and off as you wish from your Dashboard by changing the 'Instant Book' status.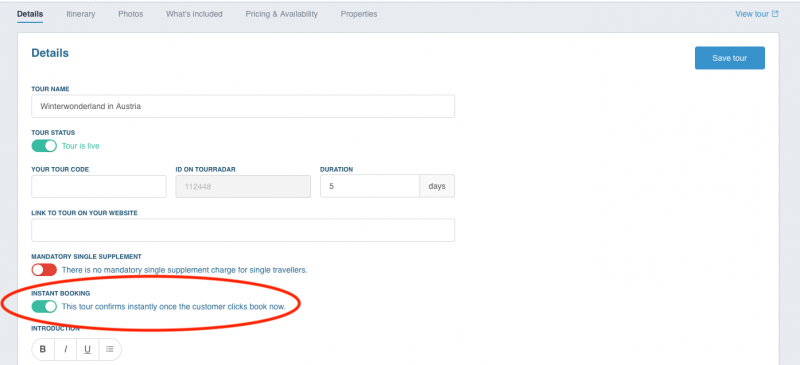 Note: If you have Instant Booking turned off on the Bookings & Finance tab, but turned on for a specific tour, that tour will still be confirmed immediately.