Below you will find the Business Support Team's contact details as well as a guide to using the Notify TR Agent button in the BCP.
TourRadar has a dedicated Business Support Team, available 24 hours a day to assist you with all booking request and enquiries to ensure they are answered as efficiently as possible.
You can contact us from any Booking Conversation Page (BCP) by clicking on the 'Notify TR Agent' option just above the conversation box: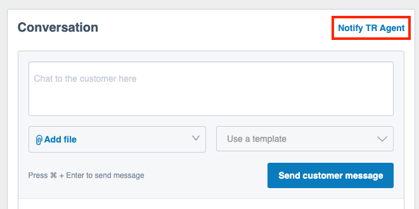 You will see useful most asked questions that may help you action the situation you need help with. If you can't find the answer to your question, you will be able to select from a short list of reasons to notify TourRadar. Make sure you send us a message with any additional details to assist you.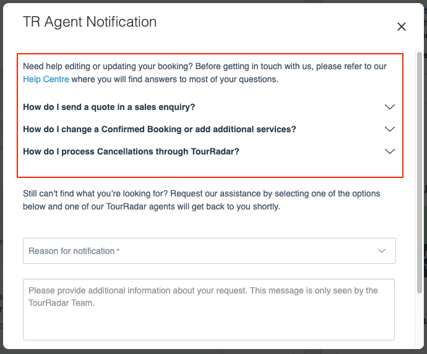 The actions listed below can only be performed by the TourRadar team:
Booking Cancellation - If a passenger wishes to cancel, please advise them of your company's cancellation terms & conditions and let them know that the TourRadar team will assist in processing the cancellation, then press the' Notify TR button' and choose 'Booking Cancellation' from the drop-down menu.
Traveller's Refund - There may be an occasion where a passenger is entitled to a refund. This could be due to an extra service being cancelled, or a passenger has requested a cancellation and your terms state they are able to reclaim some of the tour cost. In this instance, please send a message in the BCP to the passenger with the amount in your currency to be refunded, then press the' Notify TR button' and choose 'Traveller's Refund' from the drop-down menu.
Traveller's Question for TourRadar - In the case where a passenger has questions about something you are unaware of such as payment issues, the TourRadar Travel Credits, TourRadar Sales or any other question that cannot be answered by you, please press the' Notify TR button' and choose 'Traveller's question for TourRadar' from the drop-down menu.
Traveller Complaint - We understand that from time to time a passenger may return from their tour and may not be completely satisfied with their experience. In order to prevent negative reviews or the complaint escalating, please stay professional and polite, address the issues raised by the passenger and then inform our team of the complaint by pressing the 'Notify TR button' and selecting 'Traveller's Complaint' from the drop-down menu. We will then read through the correspondence between you and the passenger and provide our support in dealing with the complaint.
When used correctly this button will ensure that our customers will receive the best customer service from both yourself as the Tour Operator and TourRadar as the Online Agency.
For urgent matters you can contact our Business Support team at any time via Skype or Email:
Email: bdms@tourradar.com
Skype: operatorhelp
Watch our webinar recording to learn how to best use the Notify TR Agent button here.
If you have any questions about any TourRadar Webinars please complete this quick form and we will get back to you as soon as possible.