Below are the steps needed to take to action a 'Pending Booking'
If your tours are not set on the Instant Booking mode, then every booking will have to be confirmed manually.
Once you receive a pending booking, please check if you have availability for the chosen dates and the number of passengers.
How to confirm a pending booking?
Check that you have availability on the chosen date

Check if the price listed under Trip Details is accurate. If the price is not correct, please edit the pricing and send a message to the passenger explaining why you need to change the price. Keep in mind that changing the price on a pending booking can be quite disappointing to passengers, so we should avoid doing this. (If the price needs to be changed please do this then wait for the passenger to confirm the changes)
When ready to confirm the booking click the 'confirm' button


You then need to enter a Confirmation ID. This can be either the same TourRadar Reference, or you can enter your own reference number which corresponds to your internal booking system

Finally, you can send a confirmation message to the passenger. You can use the pre-loaded template 'Thank you on confirmed booking' for this confirmation message. Here is how to access the templates.
What to do if you cannot confirm a booking?
If you cannot confirm the booking due to lack of availability or the departure date not being operated, please offer an alternative option to the passenger
If you click on 'Decline Booking' a pop-up will encourage you to propose an alternative before you can proceed to decline the booking: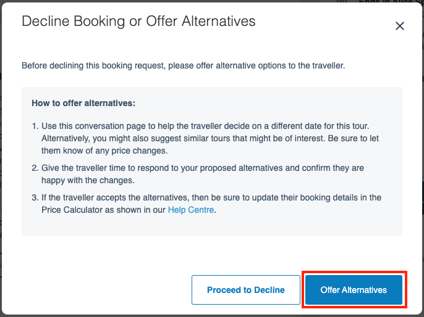 Once you click on 'Offer Alternatives' a pre-filled template will appear on the conversation box. Please fill in the information about the alternative options you want to offer:

For example, you could offer another available date for the same tour, or offer a different tour that might be interesting for the passenger
Please offer alternatives to the passenger before declining the booking
Please give the passenger time to respond to your alternative suggestions.
If the passenger agrees to an alternative, please update the price calculator, by following these steps.
In case the passenger does not want any of your proposed alternatives, please decline the pending booking by clicking on the 'Proceed to Decline' option and select the reason you were unable to confirm this booking. Any additional information will be very useful for our team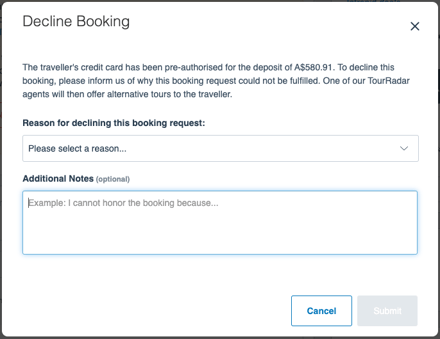 On of TourRadar's Travel Experts will then contact the traveller to try and find them another alternative tour with a different partner